Cook Needed Norway
Job as a chef in a spectacular region of Fjord Norway
Starting: beginning may 2019. Or to be negociated.
Position as a cook now available in an exciting café and event location right on a beautiful fjord! Keywords: cooking, jobs, work, employment, kitchen assistant, cook in Norway, cook in Stavanger, chef cuisinier Norvège, cocinero Noruego, Koch gesucht Norwegen.
Oscar our cook is leaving and needs to be replaced. He has found a woman in his life and would like to move to the south of Norway and start a completely new job -something green, not in gastronomy any more.
Oscar and I, Hessel are business partners. Oscar has always taken a lot of responsibilities, other than cooking only and built up the company over the past few years. Him leaving is a big loss for Flørli and we are looking for a mature, experienced person to take his place.
Our season runs from 1st april to 30th september. We have over 60 beds, a café and pub. The café and pub are only opened part of the season. Main-season for the kitchen lasts from about middle of may until the beginning of september, with some events before and after.
Weekends and holiday period, we have locals and tourists visit and offer an à la carte menu with Norwegian style food at affordable prices (download it here: florli.no/cafe). Before and after the holidays, there are many groups usually from 20 to 100 people: companies, retired people, weddings etc.. Most of these groups are served buffet style food with a choice of meats, fish, salads, ovns dishes and sauces, generally made from the bottom-up.
Our kitchen is characterised by café-style meals with affordable ingredients, served in a good looking, tasty manner. Service levels are low: guests order and pay at the cash-register, we then bring the meals to their table. Our guests don't come to empty their pockets, but to get a sincere taste of Norway and a moment of enjoyment and relaxation after their strenuous hike. Of course, we also receive groups who want more high-end food.
Cooking takes place in an open kitchen. It is heavy work and a lot of work! We work every day during the season.
There are two positions available:
-the Oscar replacement: someone who stays from may to september, takes responsibility, works his ass off, earns well, fixed monthly pay. I hope to find someone who intends to stay several seasons / years and build up Flørli as a replacement for Oscar!
-a kitchen-aid who also does reception work and waiting on tables, from beginning of june to beginning of august. Earns between 160 and 200kr/hr. Read more here.
Why work for Flørli:
Small company, you can give it your personal touch
Seasonal work: work very hard during summer, get to take long paid compensation off-season.
Varied cuisine – you get to challenge yourself. No day is the same.
Cheap housing on site. You get to save a large part of your income.
Flørli is gorgeous – if you like the outdoors, you will love it here!
Possibility to buy into the company over time and be a co-owner.
Possibility to extend your season, if you want to work more.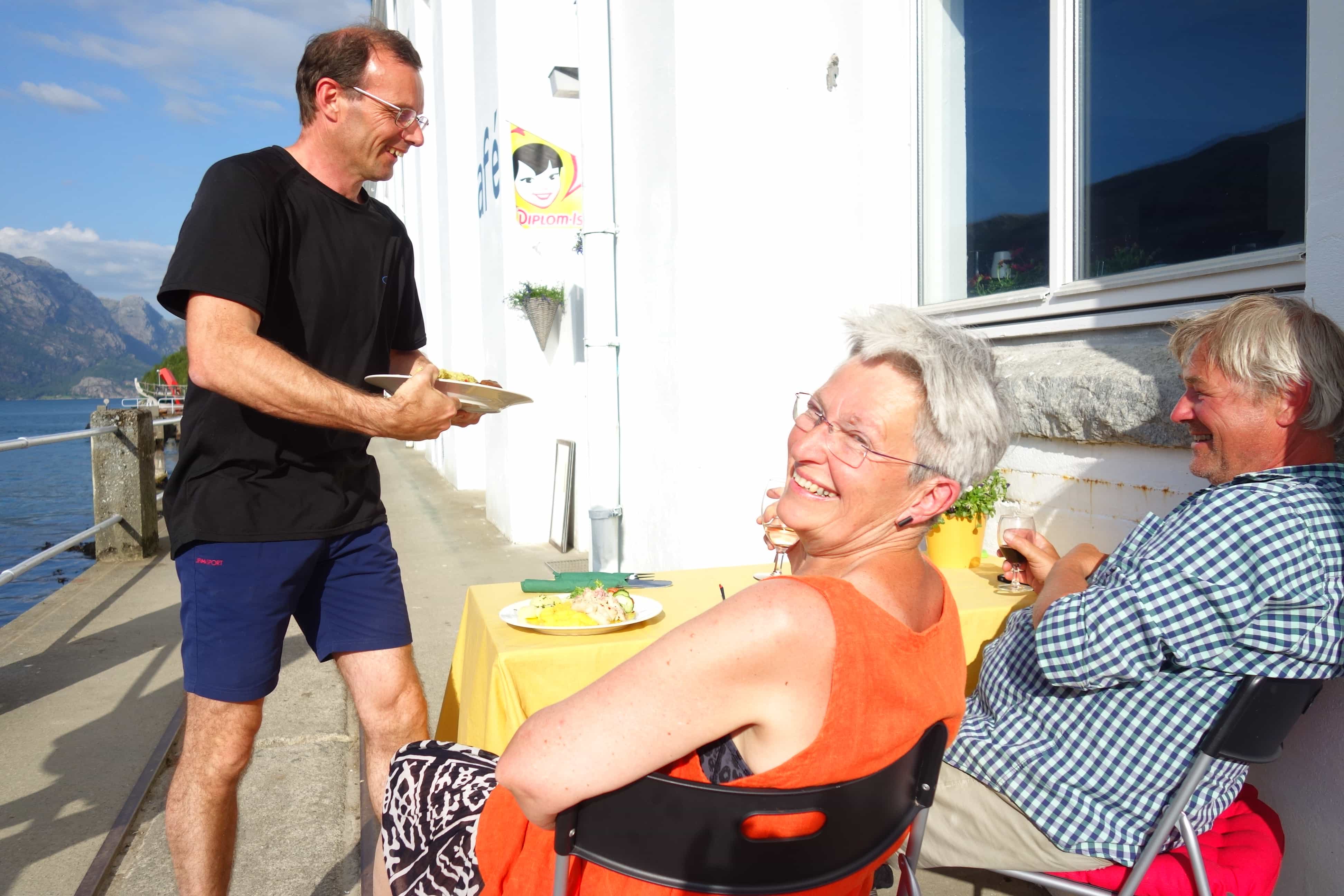 Flørli is one of region's most exciting tourism companies in one of Norway's most iconic fjords.