Point 1 – the homestead Holmen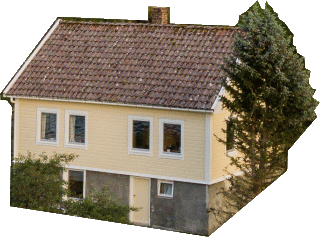 The homestead Holmen was a subsidiary tenant farm under the main farm Flørli, which lies at the top of the village. This homestead was built in 1824 and had a barn just above it which is long since removed. The pictures below show what it looked like here in 1917. As you see, the house does not have its modern panelling and a groundwall of stacked rocks. The homestead had been constructed on an island in the river (norwegian: holme), which is why it is called Holmen. Note how it is built in the middle of a rock-field which big boulders around and apparent absence of tillable soil.
We know from the population count that ten people lived in the house around 1920: black-smith Johan Selvik (1879-1961) with his wife Ragnhild Selvik Flørli (1882-1963), six children and his step-mother Tobia Kristensdotter Flørli (1845-1941). In addition, a separate part of the house hosted workers employed in the quarry chipping rocks or as payload carriers to get materials up the mountain.