Point 6 – Guesthouse Ingeniørmessa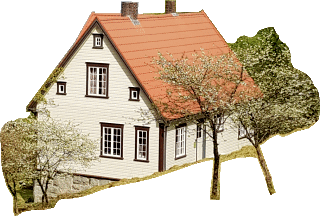 In 1927, when the municipality took over Flørli, they planted an oak to mark the event, with a small plaque in front. Walk up to the oak to read it.
The power station had a guesthouse called Ingeniørmessa. This was where residing engineers, officials and representatives were hosted. The villa was erected in 1917 and held high comfort back then, with washing basins in all rooms and a watercloset in the basement. Women in the village would service the guests, making their beds and meals. What makes the villa unique today is that most of the interior is still authentic from when it was built. You can book your stay here with us – it's called Flørli Historic Hostel.
Both this house, as well as the big yellow Nedre Messa at the bottom of the village were regularly used for parties and gatherings. You can tell from the pictures that they had loads of fun back then! Many of the former inhabitants of Flørli tell of generous inclusion and solidarity in the village and share fond memories.