Café & dining • Kiosk • Souvenir shop • History Exhibition • Capacity: café indoor rooms 80 guests + outdoor terrace 100 guests. Wifi available.
Opening hours 2023: see calendar. The historic hydropower station from 1916 is a must-see in Flørli. In the large turbine hall, you can see an original turbine and visit the control room. The exhibition tells the tale of this feat of engineering and how it was to live and work here through pictures, artifacts and video.
In the hydropower station is also the Kraft Kafé. An intimate, original café in the refurbished entry to the hall. The café serves coffee and cakes, waffles, lunch plates and a number of traditional Norwegian warm meals, click here for menu 2023. For groups, see also our Food for Groups. The café also has a Kiosk selling basic necessities and a little Souvenir Shop. See pictures from the café.
Bord Reservasjon
Du trenger ikke og kan ikke reservere bord – bare kom!
Grupper på flere enn 10 derimot kan gi beskjed. Da er vi forberedt når dere kommer.
Ventetid på middag er sirka 10 minutter, men opp til en time på de travleste dagene.
Unngå kø: kaféen er travlest fra kl15 – kl16 og så igjen fra kl18 – kl19.
Did you know?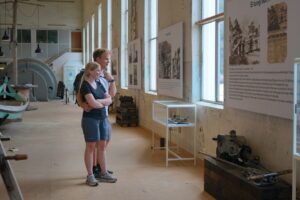 There is a free exhibition in the historic hydropower station about the early construction of Flørli from 1916 to 1918 and Flørli as a living community 1918 to 2018.
You should also do our digital village tour! It lasts 1,5 hours and tells you about the history of the village. Free. Ask for it when you get here.