How to combine Pulpit Rock and Kjeragbolten
Travel between all highlight attractions – stay in Flørli 4444
Hiking Preikestolen (Pulpit Rock) and Kjerag (Kjeragbolten): these highlights of southern Norway can be combined with a visit of Flørli 4444.
These main attractions are often combined. This is how.
With your own car:
If you have your own car, start in one end, for example Preikestolen. Drive to Jørpeland, then on to Preikestolen parking. The parking is paid for (300kr/car in 2023) and there is no good alternative to avoid paying unless you hike all the way from Jørpeland. There are public toilets, tourist shops and a restaurant at the trail head. Enjoy an exciting and well-kept path to the top. You will understand why this is Norway's number one nature attraction! Start the hike in the morning before 9:30am to beat the crowds and catch the Lysefjord ferry.
After Preikestolen, drive to Forsand quay and take the ferry to Flørli, bring your car on the ferry (book well in advance!) or park it for free on the ferry quay. The drive takes 20 minutes. There are shops in Forsand and a gasoline station (there is nothing further into the fjord). The last ferry leaves early afternoon, read schedule.
You should spend 2 nights in Flørli, 3 if you also want to hike the Flørli Stairs.
Kjerag can be visited from Flørli with or without your car. With your car: you should have prebooked all ferry departures to be sure there is space for your car. Book Forsand – Flørli, then Flørli – Lysebotn. Drive from Lysebotn to the Kjerag parking (20 minutes). Parking costs 300kr (2023). No car: book the SBK shuttle bus or a taxi to take you 7km from the ferry quay in Lysebotn to the Kjerag parking, read more.
Without car:
From Stavanger, take the bus to Preikestolen (Pulpit Rock). You can get most of the way with cheap public transportation busses (Kolumbus), but not the last 7 kilometres. Therefore you may as well book a bus tour to the Preikestolen parking with commercial providers like GoFjords, Boreal or Pelles Reiser.
After your Preikestolen hike: Pelles Reiser offers a bus shuttle to Forsand quay. Alternatively, book a taxi or hitch from the parking to the nearest bus-stop along the Rv13 main road (7km), then take the Kolumbus bus to Forsand quay. The Kolumbus ferry from Forsand leaves early afternoon, be sure to make it on time, read schedule.
Spend a day or two in Flørli to hike the Flørli 4444 stairs and Kalleliklumpen.
Travel on to Kjerag with the Kolumbus ferry, Flørli – Lysebotn. Then book the SBK shuttle bus or a taxi to take you 7km from the ferry quay in Lysebotn to the Kjerag parking, read more.
Tags: hiking hiking hiking, in Norway, recommendations, tips, travelling, driving, Preikestolen, Pulpit Rock, Kjeragbolten, Kjerag, Trolltunga, Flåm, Norway in a nutshell, airport Stavanger, Stavanger, Jørpeland, Forsand, Lysebotn, Flörli, wandern, Norwegen, randonner, Norvège, gîte d'étappe, logement, camping, rifugio, norvegia, Hütte am Fjord Norwegen, public transport, bus, busses, train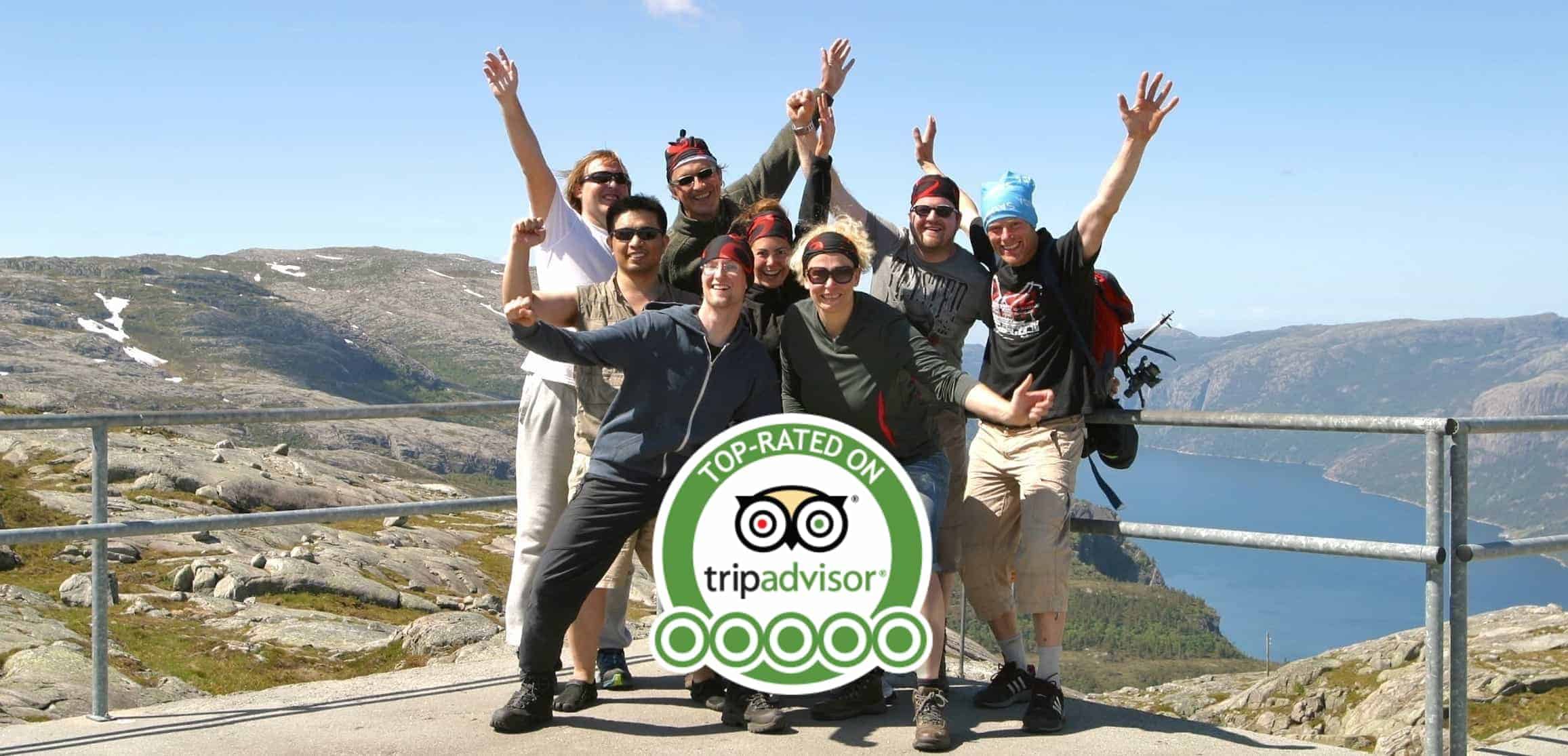 Need help planning?
Pull out a map and look at the geography a bit. Then if you still have questions, send us a message and we'll try to help you!
Remember Norway is big and you need many days to combine these attractions! Driving takes longer than Google maps suggests!